Hi Ladies, please forgive for posting this late. I got a bad virus/spy ware from opening a PDF document, not sure how the heck that happened but it got in right past my McAfee. So I am at a friends house right now using her computer, as I feel horrible for not being on time.
This little cutie is my Granddaughter when she was just a few weeks old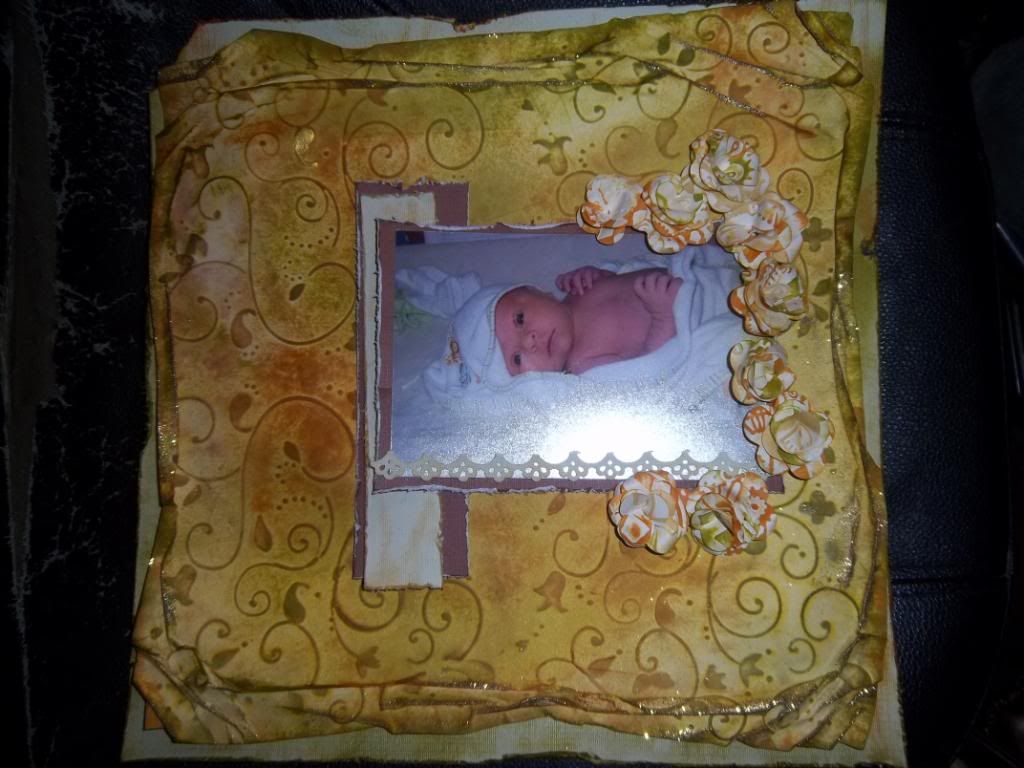 Any way, so anyway, this weeks challenge was embossing. So I pulled out my stylus, my light box, wax paper, and the template I wanted to use, and hand embossed the background paper my self. Yup, no embossing folders, no machines to do it for me. Once I had the embossing done, I got my baby wipes, my distress inks, and colored and shaded the paper till I was happy with the out come, also took a small mister bottle, and wet all around the paper, and scrunched it all up till I was satisfied with the texture. Then Hit it with the heat gun till stiff. After all of that I took the embossing powders, and gold emboss powder and just did a hit and miss around the edges. So there is hand/dry embossing and heat embossing.
One would think after all the flowers I hand made for the blog hop I would be sick of making them, but oh no, I had to cut out more, hand emboss them, ink em and add them to this page as well. It was fun, doing things the old way again...
BLOG HOP WINNERS!!!
I have emailed those of you have won, with instructions on how to collect your prizes...Thank you all for making the blog hop a great success.
I am not sure whn I will be back on as I still need to have the spyware/virus removed from my computer, but will do my best to be back soon. Thank you for your understanding.
Have a wonderful week
*´¨)
¸.•-:¦:-♥•*´¨) ¸.•*¨) (¸.•´ (¸.•´HUGS *¸.•´¸.•*´¨)
(¸-:¦:-♥(¸.•´ *Ronnie.•*´¨ ) ¸.•*¨) -:¦:-♥ ♥.•*¨-:¦:-. ;.•.♥.•*¨-:¦:-. ;.•.♥